To view the payout history of a consignor, select the appropriate consignor and click the "Payout History" button.
A window will pop up that will show you the payout history of this consignor. If a payout has been voided it will show "Voided" in the "Actions" column.
To void a payment, click on the "Void" button. There will always be a history of the payout but voiding it will undo everything associated with paying out a consignor.
To reprint the payout report that shows the consignor what they sold and what they are getting paid, click the "Report" button.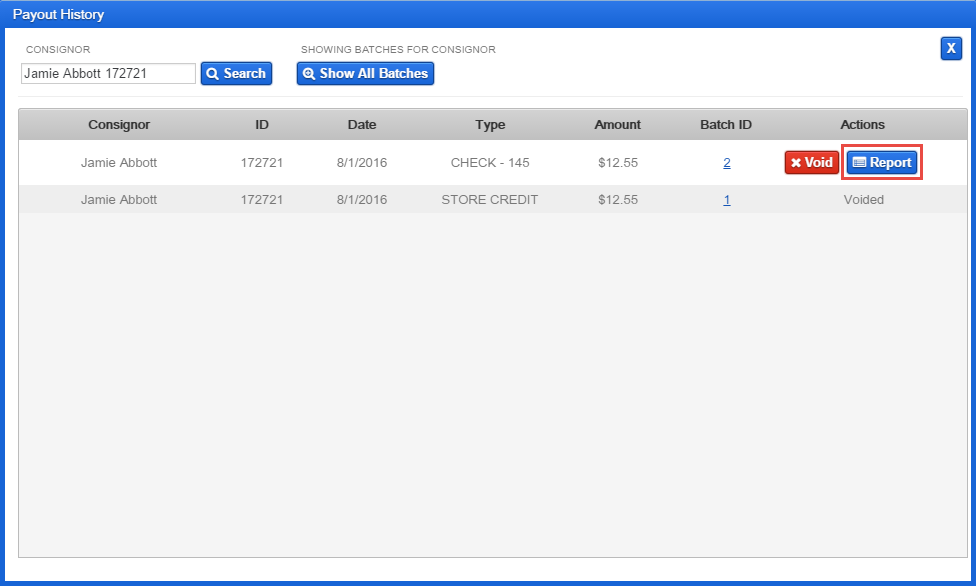 If you click on a Batch ID it will show you all payouts for that particular batch. From there you can reprint checks & payout reports in bulk as well as void the entire batch.
If you completed a batch payout and want to void the whole batch, click on the Batch ID and then click on the "Void Batch" button in the lower right corner.
View Entire Payout History
To see your entire payout history, click the "Show All Batches" button.